Ed Kemmer's
Home page

Memories from:

Introduction
Warren Chaney
Chuck Lassen
Beth Flood
Jack McKirgan
Jean-Noel Bassior
Elliott Swanson
Marty Baumann
Christine Hood
Solar Guard Posts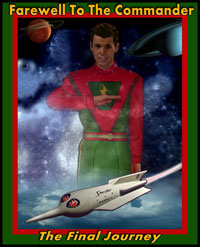 Cadet Memories of

Ed Kemmer

Commander In Chief

Of the

Space Patrol


From the Solar Guard Bulletin Board

Chuck Lassen
Last night, I was remembering the wonderful time we had at Monster Rally 99, when Ed Kemmer joined a bunch of us cadets for a drink in the hotel bar. We sat around a big table in big comfortable easy chairs and had such a good discussion on many subjects. The idea struck me to take my Space Patrol beer mug (from the "Crimson Collector") out of my display cabinet and put it to good use. I hoisted a cold brew in a toast to Ed, and I felt sure, that somewhere, he was doing likewise with me.

Marian Nickerson
(Cadet Chuck's "little sister")
I just read my brother's comments on the BB about Ed Kemmer. Even though we grew up in the same household and watched the same one and only TV, I have quite different memories of Ed than Cadet Chuck. I was too young to understand much of the significance of the show, but I know that "Buzz" was always my favorite. I remember him fondly as the cute sexy one!

Cadet Cary
Ed influenced my life from 1950 or so right up to the present. It might be fair to say that to us cadets, Ed's death is comparable to that of another great star, Buddy Holly.

Chris Mason
Last year just after my father (Tom Mason/the Crimson Collector) passed away, I contacted Ed Kemmer for an autographed picture of him from Space Patrol Ed was more than kind to sign the picture to my Pop, the photo has been sitting on my book shelf unframed still in the mailing envelope from Ed ever since. I never had the heart to get it framed and hung as it brought too many memories of my Pop... but today, I went out and bought a frame for it to hang in my office... Thanks ED!

Jon Rogers
It is indeed a sad day for all who remember and had the opportunity to meet "THE Commander". He had a positive influence on us in early childhood when we watched the show and in later life when he met his fans at conventions. He was always gracious, open and gentlemanly to all. He will be missed.

Bobbi
Well Jean-Noel and all,I was sad to hear of Ed's passing.
I had spoken on the phone to him twice during the last two years and we were going to try and plan a visit, which unfortunately never came to happen. He sounded like a hell of a guy on the phone and come to find out when we spoke, that he and his wife came to upstate NY once in awhile too (where I was living at the time). I regret not getting to meet him in person. :-*( He was pleased to meet me on the phone and said he had so many fond memories of my father Lyn. I guess I didn't go to NYC soon enough.

Theo J. Williams
It was in the middle of ORYCON 26, a S/F convention in Portland OR last weekend, that I heard about Ed's stroke. Just the afternoon before that I'd presented a multi-media offering on SPACE PATROL to an enthusiastic group of fans. They laughed in the right places, groaned at the technical crudities evident on the kinescopes, and were mightily impressed at the performances of the whole cast---especially Ed Kemmer. They all 'got' the strength of character in this guy---I'd like to think they recognized the remarkable man behind the smooth, assured performance. He gave many of us our first impression of grace under pressure...quite an accomplishment.

Tor Kovacs and family.
I received an email from Jean-Noel this morning with the sad news on Commander Corey. He has always been Commander Corey to me. Please pray for patience, strength, and peace for Fran. God speed Commander.
Fran, you have our deepest sympathy at this sad, sad time.