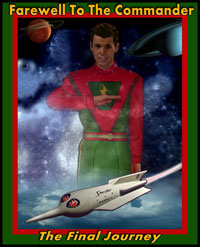 Cadet Memories of

Ed Kemmer

Commander In Chief

Of the

Space Patrol


Remembering Ed

For many of us Commander Corry was a hero that we looked up too and admired. In the 1950's it was clear who the bad guy was and who was the good guy and Commander Corry was a good guy.

Fifty plus years later it's still true, but this time it was the man who played the good guy that we saw as the hero. We were lucky enough to know Ed Kemmer and miss him now that he is gone, but he is not forgotten.
We express our thanks to one of our childhood heroes in these pages. Send in your memories, favorite pictures or just a word of thanks to Ed's memorial page. A memorial book with your memories will be sent to the Kemmer family as a thank you from his fans.
Thanks Ed for being the hero to the child and to the adult.
The navigation bar to the left will take you to each cadet's page. Pages will be added as they are received.
Cadet Ed
cadeted(at)solarguard.com