---
SILVERCUP BREAD ROCKET
The Rocky Jones Traveling Rocket
1950's PICTURES
---

The color and B & W pictures were sent to the Academy by the son of the Silvercup Bread Rocket driver via Doug Souter. Compare the pictures on this page to the recent pictures of the Silvercup rocket on page 2.

The following from Don, the son of the Silvercup driver:
My Dad was a truck driver for silvercup Bakery in the fifties and they called him Rocky, he was the driver who hauled the rocket in parades and parked it in food store parking lots for kids to play in and even handed out miniature loaves of Silvercup bread. I was a little kid back then and he would take me in the truck with him in parades and then it would be parked at Riverview Amusement Park in Chicago for advertisement while we gave out loaves of bread.

The bakery name on the truck is the Gordon Baking Company. The details are lost in the scan for the web, but the bakery name can be clearly seen on the driver's door under the Silvercup Bread emblem and the front lower part of the trailer in the full size scans. None of the pictures had a clear view of the license plate which would have helped in establishing the time frame of the pictures.

The reference made by Don to Chicago indicated that this may have been the rocket that Cadet Dick Dyszel (AKA Gore De Vol) saw touring Chicago in the 1950's (see comments page on the traveling rockets dated 8/11/99 and page 1 of the Silvercup rocket page). A follow up email from Dick (November 2002) confirmed that this was the rocket he saw in the 1950s:
That's the one I saw in store parking lots and in at least one parade. I had totally forgotten about the mini loaves of bread. I've been thinking about the time frame. I know I saw it once while living in Gage Park and then again after moving to the far south side. We moved in the fall of 1957, so it was available for viewing at least during that year.

Thanks to Don, Doug and Dick for the update on the Silvercup Rocket. Stay tuned as the story of the Silvercup rocket continues.

Click on the picture for a larger view of the Silvercup Rocket.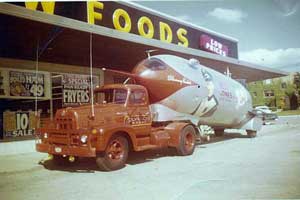 Introduction to the Silvercup Rocket
PAGE 2 Pictures And Particulars
Page 3 1950's pictures of the Rocket
Return to
Ralston Rocket Page Ralston Rocket Comments
Comments & suggestions may be sent to the Solar Guard Academy