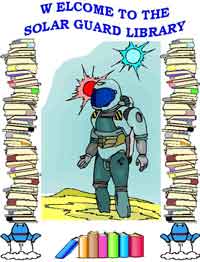 The Solar Guard Library
NEW RELEASES
---



Return to
| SG Library | New Releases | Soon to be published |





BLAST OFF! Space Toy Book
Blast Off!! chronicles the golden era of space toys, an age of imagination unbound by the more mundane realities of space travel ushered in by Sputnik and the Space Age.


---

SPACESHIP HANDBOOK
By Jack Hagerty and Jon Rogers.
It's here and it is everything we hoped for. For information on how to order the SPACESHIP HANDBOOK click on the THE HANDBOOK INFORMATION PAGE


---

STARMAN Series By Michael D. Cooper-
JOURNEY TO THE TENTH PLANET - Third in a series of 23
A new series of space action adventures in the tradition of the series books of Tom Corbett and Rick Brant.
Starman # 3, is finished and may be ordered now.

Go to the JOURNEY TO THE TENTH PLANET page for an update on the book and the introduction page for the background on the series. For further updates go to the STARMAN website : http://www.starmanseries.com . Don't miss out on this new series of space opera adventures.


---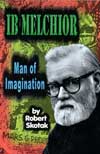 Ib Melchior Man of Imagination
By Robert Skotak
Midnight Marquee Press, Inc

IF one of your all time favorite SF movies of 1964 was ROBINSON CRUSOE ON MARS, or you remember the MAN IN SPACE television show with fond memories then you can thank Mr. Melchior. Now, thanks to Robert Skotak's book IB MELCHIOR MAN OF IMAGINATION, you will have another reason to thank Ib Mechior because his early work in SF began with TOM CORBETT SPACE CADET.

I was interested in the chapter dedicated to the Tom Corbett Space Cadet show, but found that the book is a wealth of information about one of the early pioneers of TV and movie SF. From Mr. Mechior's work on Tom Corbett to scripting some of the best SF TV and movies of the 1960's, Robert Skotak's book will enlighten you to Mr. Mechior's career as well as provide leads for future research into early SF TV series.

I now understand why I enjoyed both the Crusoe movie and the Man into Space TV series. The man behind the work is truly a fellow cadet who has given us "a sense of wonder" and deserves the title of Man of Imagination. Thanks Robert for the research into a career that has touched and delighted many of us as we grew up. This is a valuable resource for SF movie and TV fans and is recommended reading for all cadets.

IB MELCHIOR MAN OF IMAGINATION can be ordered from Amazon.com


---
IT CAME FROM BOB'S BASEMENT Publication date December 7,2000
From John Michlig.
As many of you who are in or around the book business know, publicity budgets are tiny for books that aren't written by Stephen King, J.K Rowling, or accused felons. Quite simply, it's largely up to the authors themselves to shake as many trees possible in order to make sure awareness is high.

The purpose of this message is to solicit suggestions, create opportunities, and begin "viral marketing" in advance of the release of IT CAME FROM BOB'S BASEMENT. For all of us who have been fortunate enough to see Bob's priceless collection and hear his equally priceless anecdotes, this is a no-brainer. The job now is to make sure everyone else in the country A) knows about http://www.amazon.com, and B) takes this book home!

For those of you who have web sites or friends who run sites: feel free to take whatever graphics you need from my site (http://www.fullyarticulated.com/BobsBasement.html). If it's a banner you prefer, let me know and I'll get one to you.

The book is already listed on Amazon.com If you enjoy the book as much as we think you will, please take the time to submit a review once you've read it. It really is incredible just how effective Amazon reviews can be.

Please don't hesitate to contact me or Bob if you have questions or a brain-sparkler you'd like to share, and thanks in advance for helping to make the book a success!
John Michlig
john@fullyarticulated.com

From The Publisher:
IT CAME FROM BOB'S BASEMENT is a colorful journey through the vivid and campy world of fantastic cinema and a true tribute to a man who has dedicated his life to the preservation of incredible movie artifacts -- from the original King Kong's metallic skeleton to the life-size Alien Queen. Including insider stories from the sets of favorites like The She Creature, It Conquered the World, and Plan Nine from Outer Space, Bob Burns brings fellow fantasy buffs up-close with props and artwork from the greatest (and most outrageous) sci-fi films of all time. A story told with genuinely irresistible enthusiasm, Bob's Basement honors the beloved cult classics that have shaped movie history.


---
Frankie Thomas (Tom Corbett)
This is the tenth Sherlock Holmes book by the Polaris Unit's Command cadet. Copies of Frankie's books have been published in Germany, Israel, Russia and England. This new Sherlock Holmes book, Sherlock Holmes and the Panamanian Girls, is now available from:
www.author22.com/thomas/shpg.htm and www.amazon.com.


---
Jan (Roger Manning) Merlin

Jan Merlin is best known to Cadets of the Solar Guard as Roger Manning on the Tom Corbett Space Cadet Show. Jan is also an author with several books published. Jan has a new ordering page for his books, http://www.xlibris.com/JanMerlin.html . Jan Merlin has his novel about the film Industry, SHOOTING MONTEZUMA, available in hard back and a new trade paperback edition. Books are available on the Internet at: http://www.xlibris.com/SHOOTING MONTEZUMA.html . Jan's GUNBEARER Part Two is also available .


---
Ray Gun by Eugene W. Metcalf

Ray Gun is produced by fellow Cadet Gene Metcalf. A colorful, hard bound book on toy rayguns. Gene's website www.toyraygun.com is a rich resource for ray gun fans. Highly recommended. You can order through his website, the link takes you to the Barnes and Noble bookseller's site. The Barnes and Noble price is $15.96 (almost $4 off the published cost) plus shipping.


---
CHESLEY BONESTELL SPACE ART CHRONOLOGY
From Melvin Schuetz:
I'm pleased to announce the publication of my new book, that traces the history of Bonestell space art in books and magazines from 1944 to 1998. It is the definitive reference guide to where his space art appeared. The vast majority of the information in this book has never been published before.
The book is now available and may be previewed and ordered on the Internet at: http://www.upublish.com/books/schuetz.htm

Anyone who remembers the 1950's Collier magazine's "Space Program" issues, know what a great space artist Chesley Bonestell was. However, this is a book that lists publications and media where Bonestell's work has appeared and does not contain any paintings by Chesley Bonestell. It is not an art book, but a complete reference book to Chesley Bonestell's work. A reference guide for researchers and fans who need to locate books, magazines etc which contain Bonestell's work. A very valuable tool.
---
It appears that DuMont's Capt Video Book is a no show. Many fans have tried to order the book, but no one has received a copy yet. Anyone know if this is a real book??
Comments & suggestions may be sent to the Solar Guard Academy

rev 10/18/00