NAME PLANET X
CONTEST
---
THE PRIZES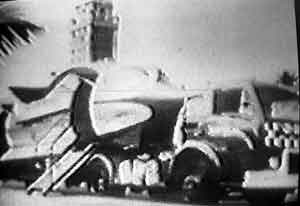 THE PRIZES as reported by the our favorite announcer Jack Narz includeda grand prize of a real Rocket clubhouse , a chance to win 1,750 prizes and free space coins for everyone. Just name the Black Falcon's stronghold the massive Planet X. Planet X, 5 times larger ( it varied from 5 to 15 to 5,000 times greater) than earth, populated with man eating plants, prehistoric monsters ( Ice Demons) and the home of Prince Baccarratti. It's as easy as 1 - 2 - 3
Go to the Weather - Bird Shoe store
Where a Weather- Bird shoe man will give you a free prize, an interplanetary coin album and three silver space coins.
Use the entry blank in the coin album
Information on how to enter was on the back of the "new" Hot Ralston Cereal boxes with pictures of Commander Corry or Cadet Happy.


Grand prize. A hugh silver and scarlet rolling clubhouse, the Commander's rocketship, the Terra IV. The ship is 35' long, 10,000 lb in weight with a full size motorized flatbed truck to pull the Rocket. You can take the rolling clubhouse on trips, camp outs with your dad, sightseeing trips, or use it for you and your friends Space Patrol Headquarters. It has bunk beds lights, cooking equipment, and lockers for space gear. In addition to the Ralston Rocket there is $1,500 in cash to spend .
---
Second Prize
| | |
| --- | --- |
| 750 - Schwin varsity bicycles. | |
---
Third Prize:1,000 pieces of official Space Patrol equipment
250 - Autosonic rifles

250 - Outer Space Helmets

250 - Emergerncy Kits


250 - Space Patrol wrist watches by US Time

Space CoinsFree "Husky" plastic Space Coins at Weather -Bird shoes and inside Hot Ralston cereal boxes. The "NEW" box of Hot Ralston cereal contain space coins the size of half dollars in three glowing colors blue, gold and black . The coins have pictures of the Moon, Saturn and Terra embossed as a design on them.

---
There are many more pictures I would love to add, but will save for a later time. Anyone with better photos are welcome to add them to the pages. Thanks and stay tuned for more updates. Thanks again to Bruce David at SwapSale for making these tapes available. Till next time... Clear Space and Hot Rockets, Cadet Ed
Return to:
Name the Planet Intro
| Space Patrol Home Page | Ralston Rocket Page |
Comments & suggestions may be sent to the Solar Guard Academy