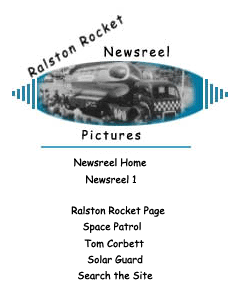 RALSTON NEWSREEL
The Rocket arrives
Newsreel Page 1


The newsreel reflects an interesting contrast of the 1950's. The gray washed out look of the newsreel is in direct contrast to the symbol of the Space age - the Ralston Rocket that hurls its crew into the wide reaches of space. It's a feeling of wonder and reality that may help define what the 1950's were really like for those who lived them. Rory Coker remarked that it was very difficult to explain the 1950's to some of his 20 "something" year old students. The contrast found in the newsreel conveys the feeling of the 1950's and may help others to understand the period.

The era had hope for the future (the rocket and space travel) and the newsreel show a people who had to face the beginning of the cold war and the everyday challenge of providing for their family in a recession era. The emerging technology gave hope, but it was the people in the newsreel that had to live through the development of those technologies. The bomb shelter ads, the "duck and cover" drills in school and the feeling that we may not have a future were realities faced each day.

The Ralston Rocket was a positive symbol of the future that suggested we would conquer space, live in peace and see the vision of space travel in our lifetime. It was also a lot of FUN!!!! Being a kid, you were allowed to dream and what better dream could there be ....????.... but to ride the Ralston Rocket to the stars!!!

The first series of pictures bring the Rocket to Ricky. Even the local stores were capitalizing on Ricky's good fortune. The arrival announcements of the Ralston Rocket were coupled with local stores having "...out of this world values" and sales. Storefront signs were the banner headlines for many small towns. Note the contrast of Ricky's coat to the uniform of the Space Patroller who helped him into the rocket. The fishbowl space helmet seems a little out of place with a multiple patch winter jacket. But we never saw the contrast, we enjoyed the vision.

More pages will be added as Bob and Chris can clean up the early film. So stay tuned and reflect on some of our "Future Past "experiences.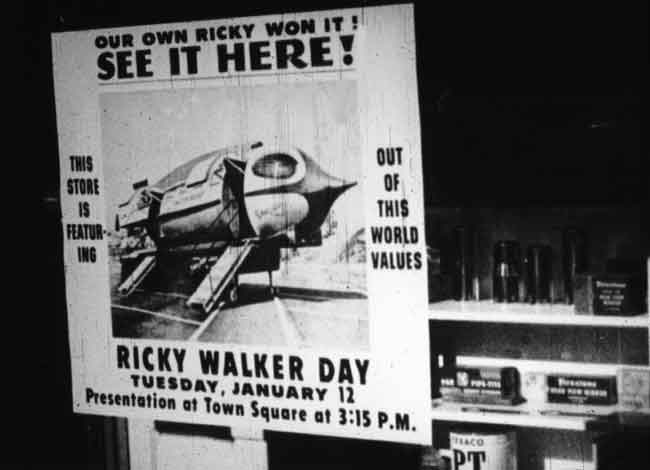 The Announcement and proclamation of Ricky Walker Day

---

The Contest Rocket rolls into town.

---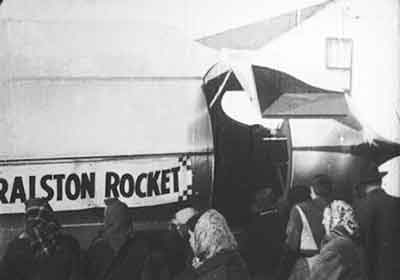 The door opens for Ricky.

---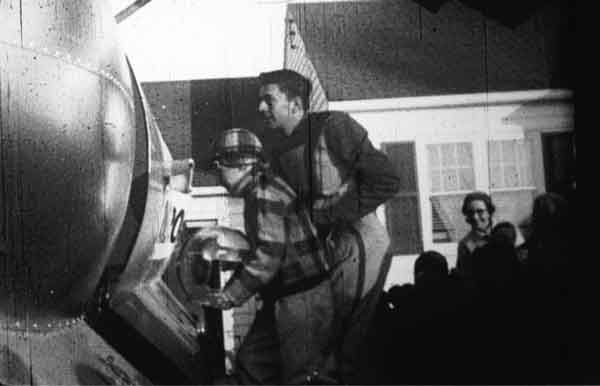 Ricky Walker enters the Rocket

---

A happy Winner with Space Patrol helmet

---


| Newsreel 1 |Newsreel 2 |
Return to:
Ralston Newsreel Intro

Comments & suggestions may be sent to the Solar Guard Academy